==L I C E N S I N G==
=1.0= COPYRIGHTED ©
All rights reserved. Site copyright © 1993-2017, The Inkbox Company, PO Box 60444, Lafayette, LA 70596
If you need to reach the site administrator, you can contact us via this address; just add the at sign(@) between the user name and the email server.
user name: time.gangling
email server: gmail.com
=2.0=TRADEMARKS ™
The common law trademarks, service marks and logos utilized on this website: mikeleblanc.net, Folio7, Town and Country Planning, and Louisiana Places.
=2.1= MIKELEBLANC.NET
The term, "Mikeleblanc.net" is a common law trademarks and service mark for products and services related to graphics, technical documents and books, music, still photography, cinema, and video. The copyright and trademarks claims were first used in American interstate and international commerce on September 21, 2016, when the domain, mikeleblanc.net, was operational on the internet.
=2.2= FOLIO7
Foilio7 is a common law trademark for an utility software written in AutoLISP for use in AutoCAD. Previously, Foilio7 was known as Inkbox Tools, which was owned by The Inkbox Company through August of 2016 when the domain inkbox.com along with associated trademarks for graphic design was sold. The trademark, inkbox, was previously first claimed to be in use for interstate commerce in the early 1990's. The buyer of the domain and trademarks was Inbox Ink Inc., a Canadian Corporation and seller of tattoo inks and supplies on a website then called getinkbox.com. The sale was facilities by Escrow.com.
=2.3= LOUISIANA PLACES
-A- The terms, "Louisiana Places", and "Places de Louisiana" are trademarks and service marks for naming geographic features as part of the "Louisiana Places Project", which is similarly trademarked and service marked.
-B- Louisiana Places as a trade name was first used in the state of Louisiana on August 15, 2017 when data was first posted on mikelelbanc.net.
The graphic trademark associated with Louisiana Places/Places de Louisiana is listed below: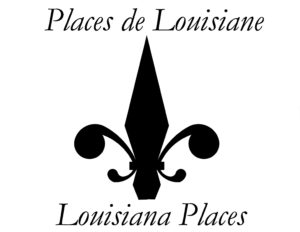 =2.4= THE INKBOX COMPANY
The Inbox Company provides as of 2016 provides planning, mapping and writing services. It's graphic trademarks are shown below.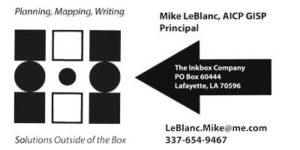 Prior to that date, The Inkbox Company utilized its trademark, Inbox, in interstate commerce on in 1997, after which a federal trademark was received in 1998 but as of 2009, the trademark was abandoned.
=2.5= TOWN AND COUNTRY PLANNING
The Inbox Company does business as Town and Country Planning providing city planning services for public infra-structure and community organizing as of July, 2016. It's graphic trademark is shown below: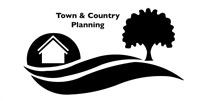 =2.6= Trademark, Service mark and Logo Ownerships
-A- The trademarks, service marks, and logos are owned by The Inkbox Company, PO Box 60444, Lafayette, LA 70596 USA., a Louisiana corporation registered on December 30, 1994 with the Louisiana Secretary of State. Town and Country Planning is associated with The Inkbox Company since May 24, 2017 through a trade name registration with the Louisiana Secretary of State and a logo registration with the Louisiana Secretary of State on June 16, 2017.
-B- The work on the Louisiana Places Project is being performed pro bono by Town and Country Planning.
-D- The Louisiana Places Project's intellectual property is used to derive profit to fund educational activities such as maintaining a web pages and providing educational resources. The use of web pages, maps, graphics, technical documents, books, music, still photography, cinema, and video as trademarked by Louisiana Places Project for any other purpose than education is prohibited unless a licensing written agreement is in force between the user and The Inkbox Company.
-E- Users of the trademarks, service marks, and logos are advised to request use of the trademark before its use to avoid legal issues with the Inkbox Company.
TERMS OF USE
By assessing this website, you agree to the terms posted herein. If you disagree, then access to this site is prohibited.
RESTRICTIONS
We have have taken many precautions and revised content over time as new and better information became available. We plan to continue this approach. However, the user shall use discretion and common sense before acting upon information herein.
We will not compensate anyone in anyway whatsoever for loss, inconvenience, and damage as a direct or indirect result of the information posted on this website.
No statement should be taken to express merchantability and utility of any information or products on this website. The website is solely intended for education and personal use unless the sale of products occur.
Any legal proceedings or actions resulting from this notice shall occur with the state of Louisiana, United States of America, where The Inkbox Company is domiciled. For issues related to Louisiana revised statues, the venue shall be the 14th Judicial District while federal and international issues shall be brought to court in the Western District of Louisiana.
This site may be used for educational and personal use that is non-commercial in nature, as outlined by Fair Use in title 17 of the United States Code (17 U.S.C § 107), as long as all copyright, trademark, service mark, and proprietary notices are maintained and materials are appropriately cited. All other uses require written permission of The Inkbox Company to use graphic, sound, and text materials. Prohibited activities are exampled by using the descriptive terms as downloading, transmitting, storing, copying, creating derivative works, distributing, or performing literary works, photographs, and sound files from this site for commercial, public use, or for personal gain uses without the express written permission of The Inkbox Company.
PRIVACY
The Inkbox Company is committed to protecting your privacy and does not sell or license your information to third parties.
IP addresses are collected to conduct statistical analysis as well as to identify spamers who post inappropriate content on the site.
The Inkbox Company does not initiate the first contact of site users except on rare occasions, when a request is tendered by a users for support.
LINKING
The Inkbox Company links to third party web sites. Once you leave the mikeleblanc.net web site you must follow the terms and conditions set forth by the third party's web site.
DIGITAL MILLENNIUM COPYRIGHT ACT
For purposes of the Digital Millennium Copyright Act (DMCA), 17 U.S.C. §512(c)(2), The Inkbox Company has designated an agent for notification of claimed infringement and for other purposes in the DMCA as follows: The Inkbox Company, PO Box 60444, Lafayette, LA 70596.